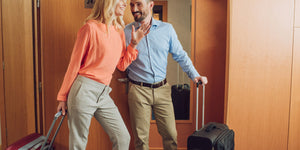 Never Lose Your Luggage Again: Tips for Easy Identification and Labeling with Compression Packing Cubes
Losing luggage can be a traveler's worst nightmare, but with compression packing cubes, you can minimize the risk and ensure easy identification and labeling. Here are some tips to maintain your luggage's identification when using packing cubes:
Opt for eye-catching compression packing cubes.
Choose cubes with vibrant colors or unique patterns to make your luggage stand out at baggage claim. A distinct design helps avoid confusion and reduces the chances of someone mistaking your bag for theirs.
Attach luggage tags.
Luggage tags are essential for identification. Include your name, phone number, and address on the tag. Consider using a tag with a distinctive design that sets it apart from others.
Label your packing cubes.
Labeling your packing cubes allows for quick identification of specific items in your luggage. Use a permanent marker or label maker to write the contents of each cube on the outside. This saves time and frustration when searching for particular items.
Keep a record of your luggage.
Before your trip, take a photo of your luggage and packing cubes. This visual record can help identify your belongings if they get lost or stolen. Additionally, note down the make, model, and serial number of your luggage.
Secure with a luggage strap.
Adding a luggage strap to your packing cubes enhances identification. Choose a strap with a vibrant color or distinctive design that stands out. It not only aids in easy identification but also keeps your luggage secure during transit.
In conclusion, compression packing cubes offer efficient travel organization. However, it's crucial to prioritize easy identification and labeling of your luggage. By implementing these tips, you can reduce the risk of losing your belongings and enjoy a stress-free travel experience.
---