---

Your payment is secure.

Why My Dog Needs This Dog Shock Collar?
Whether you want to correct excessive barking or aggressive leash pulling, or you just want to add security to off-leash walking, FunniPets® Remote Shock Collar for Dog helps you to control your best friend from up to 875 yards away.
It offers 3 training modes including shock, vibration, and tone, with 1-99 adjustable levels of vibration and shock, so you can fine-tune the correction level to achieve positive results with any pup.
Model Series: TrainerPro
[TrainerPro] dog training collar is an upgraded version of [FunTrainer], which has been further strengthened in terms of appearance design, waterproof performance, and durability. It is a useful training tool to help correct barking, walking, leash training, sitting, aggression, and other behavioral obedience. Very safe and easy to use.
Key Benefits
Quickly and effectively train up to dog from up to 875 yards away

Built-in LED light and

 reflective straps 

for training in the dark

Helps correct barking, wandering off, aggressive leash pulling, approaching strangers, and more; safe for use on all dogs 10 pounds and larger

The device is rechargeable, waterproof, and includes a power-saving movement sensor

The innovative removable contact points are made of conductive rubber to prevent skin irritation

3 training modes including shock, vibration, and tone, with 1-99 adjustable levels of vibration and shock
What's in the Box
Transmitter x 1
Receiver

 x 2

Nylon Fabric Band

 x 2

Charging Cable x 1
Test Bulb

 x 1

Metal Shock Head x 2

Contact Points x 4

User manual (dog training guidance included)

 x 1
Worry-free Shopping
We offer a 30-day guarantee on our products and our staff will be more than happy to assist you with any issues you may have. Our dedicated staff offer customer support 24 Hours a Day, 7 Days a week. 100% Customer Satisfaction Guaranteed! Please contact us if you need assistance. For more detailed information, please refer to our Return Policy.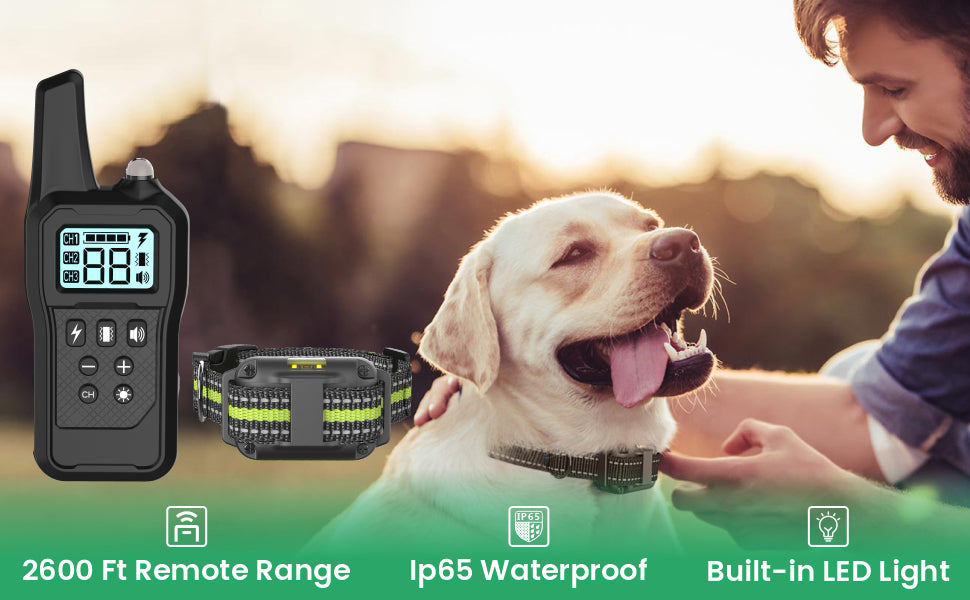 Related Videos
Shipping
Due to the impact COVID-19, current delivery times are running considerably longer than usual on all orders.
All $35+ U.S. orders fly free.
All orders are processed within 2 to 3 business days (excluding weekends and holidays) after receiving your order confirmation email. You will receive another notification when your order has shipped. You will receive notification of any delay or cancellation of your order.
We don't offer international shipping currently, any order outside of the United States cannot be made.
Click here for more information on our shipping policies
Refund Policy
Orders can only be accepted if they make the following requirements:
Items are faulty – damaged/broken or soiled upon arrival

Items are of incorrect size/color delivered

Receipt of a wrong item
If you want to return your package, please click here to find out more on our return policy. 
Fantastic!!
Within a week I have taught my girls to come when it beeps, I've only used the vibrate just a few times if the puppy wasn't coming when I first got it. I've never used the shock button and am careful not to bump it on accident. I would never want to harm my babies. I love the light for being able to see where they are in the dark as they are both black dogs.
I replaced the collar that comes with this as it fell off to easily so I got one with a buckle. The battery on the remote is still fully charged after more than a week of use and the collars need charged every 3 days or so, probably since I only use the light and the beep functions. Absolutely recommend as they work great!!
Pleasantly Surprised
We decided to give these training collars a shot outside of our normal ones we purchase and have to replace every 2 years or so. I am honestly shocked (pun intended) at the quality of this set! We don't have to have the vibrate setting or slick setting anywhere near as high as the old ones. We tried it on ourselves at first to test and see the strength, I don't put things on my dogs without seeing effects first on myself. I started at 1 and didn't feel a thing, moved it to 5 and felt it immediately. Our settings won't need to be as high on this collar and our one headstrong pup is so much more responsive to these collars. I will update the review if I feel the need to in order t describe the battery life as I cannot comment on battery life yet as we just started using them. Also, like the light on the collars, will be great for at night and walking them to light the way, or find them, whichever is needed! My only complaint is that there is a hesitation in the response time of administering the vibrate and or shock, I'm thinking it is a safety so you don't accidentally shock the dog by bumping the button. It's a learning curve, so I'm sure we will get used to it in time. Meanwhile, enjoying my well behaved and responsive pup!
Collars do die pretty quick
The collars are great overall however the batteries do die pretty quickly. They will flash green to alert you that the batteries need recharging. I love that I can take the prongs off as I only use the collars for the high frequency tones. I also love that they have flashlights on them for nighttime and the remote itself also has a flashlight.
Like it !!!
Like that it has a light on the collar so we can see the dogs out in the dark.
Okay for price
I bought these collars about 10 months ago. I never got the night function to work with the LED lights. I also disagree with the range rating. And although it says waterproof it never actually worked WHILE they were in the water. It worked fine once they got out though. The remote battery is great. The collar batteries are very hit and miss. Some charges lasted a couple days and other charges last a day. But for $40 I would say you get what you pay for with them.