---

Your payment is secure.

Why My Dog Needs This Dog Shock Collar?
Whether you want to correct excessive barking or aggressive leash pulling, or you just want to add security to off-leash walking, FunniPets® Remote Shock Collar for Dog helps you to control your best friend from up to 875 yards away.
It offers 3 training modes including shock, vibration, and tone, with 1-99 adjustable levels of vibration and shock, so you can fine-tune the correction level to achieve positive results with any pup.
Model Series: TrainerPro
[TrainerPro] dog training collar is an upgraded version of [FunTrainer], which has been further strengthened in terms of appearance design, waterproof performance, and durability. It is a useful training tool to help correct barking, walking, leash training, sitting, aggression, and other behavioral obedience. Very safe and easy to use.
Key Benefits
Quickly and effectively train up to dog from up to 875 yards away

Built-in LED light and

 reflective straps 

for training in the dark

Helps correct barking, wandering off, aggressive leash pulling, approaching strangers, and more; safe for use on all dogs 10 pounds and larger

The device is rechargeable, waterproof, and includes a power-saving movement sensor

The innovative removable contact points are made of conductive rubber to prevent skin irritation

3 training modes including shock, vibration, and tone, with 1-99 adjustable levels of vibration and shock
What's in the Box
Transmitter x 1
Receiver

 x 1

Nylon Fabric Band

 x 2

Charging Cable x 1
Test Bulb

 x 1

Metal Shock Head x 2

Contact Points x 4

User manual (dog training guidance included)

 x 1
Worry-free Shopping
We offer a 30-day guarantee on our products and our staff will be more than happy to assist you with any issues you may have. Our dedicated staff offer customer support 24 Hours a Day, 7 Days a week. 100% Customer Satisfaction Guaranteed! Please contact us if you need assistance. For more detailed information, please refer to our Return Policy.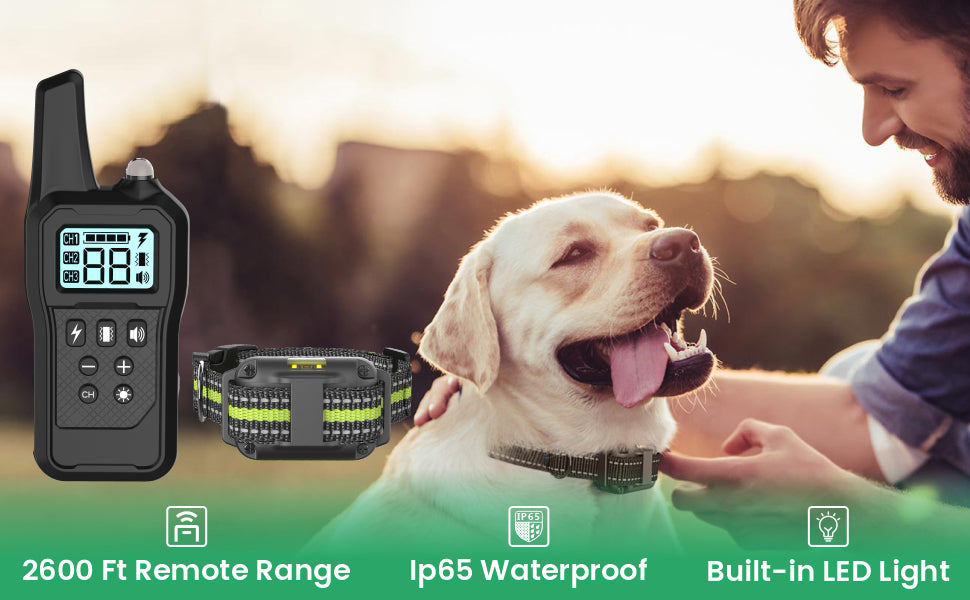 Related Videos
Shipping
Due to the impact COVID-19, current delivery times are running considerably longer than usual on all orders.
All $35+ U.S. orders fly free.
All orders are processed within 2 to 3 business days (excluding weekends and holidays) after receiving your order confirmation email. You will receive another notification when your order has shipped. You will receive notification of any delay or cancellation of your order.
We don't offer international shipping currently, any order outside of the United States cannot be made.
Click here for more information on our shipping policies
Refund Policy
Orders can only be accepted if they make the following requirements:
Items are faulty – damaged/broken or soiled upon arrival

Items are of incorrect size/color delivered

Receipt of a wrong item
If you want to return your package, please click here to find out more on our return policy. 
Ability to have 2 sources of charging just like my previous purchase.
So far so good!
So what sold me on this particular shock collar is its fairly priced, it has a light on the collar and receiver that acts like a flashlight and the distance ...2600 ft...wowzers! My first collar only went to 1000. I kinda ha e to have a collar for my pup cause we live in downtown and apartment and so therefore he has to have limitations...but he does get to go out and have fun and lots of love from the kids so he has a great life ..my life would be so much more stressful without the collar. And his too I think...he'd be in alot more trouble without it lol. Once they get familiar with the collar and what it does....rarely do I have to use the static button. The vibrate and beep do enough. So I recommend this product. Most of the collar out there are the same. Have the same features, but this one stands out because of the small extra perks it comes with....
The light on the dog, the flashlight in your hand, the battery life, the size, and the distance. It also said it didn't come with a wall thing for the power cord...but my box did!!
I recommend. And you can control up to 3 pups if you need to with the controller. . With extra relievers of course.
Works great!
My dog isn't the smartest, but this collar on vibrate made training him a breeze. Super long range! Battery lasts for days. Easy to use.
Shock works on one dog but not the other.
If you have a sensitive dog this is the collar for yo. If you have a more unruly dog this is NOT the colar for you. My Belgian mal is NOT phased by the shock at 99. My Belgian Sheepdog is super sensitive at just 20.