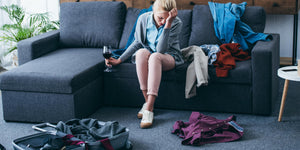 Effortlessly Shift Seasons with Compression Packing Cubes: The Ultimate Solution for Organizing and Storing Your Clothes
The changing of seasons is a wonderful time of year, but it also means a lot of work for your wardrobe. With the weather constantly fluctuating, it can be tough to keep track of what you need to wear. And if you're like most people, you probably have a lot of clothes that you only wear during specific seasons.
This is where packing cubes come in handy for travel organization. These cubes are the ultimate solution for organizing and storing your clothes, and they make it easy to transition from one season to the next. Here are some of the ways that packing cubes can help you effortlessly shift seasons while optimizing luggage organization:
Sorting and Storing Your Clothes
One of the biggest benefits of packing cubes is that they allow you to sort and store your clothes by season, ensuring efficient suitcase organization. This means that you can keep your winter clothes separate from your summer clothes, making it easy to grab what you need when the weather changes.
Making Use of Limited Storage Space
If you're like most people, you probably don't have a lot of storage space for your clothes. Packing cubes can help you make the most of what you have by compressing your clothes and making them more compact, thus enabling space-saving packing. This means that you can fit more clothes into a smaller space, which is especially helpful if you're living in a small apartment or dorm room.
Easy to Pack and Unpack
One of the best things about packing cubes is that they are easy to pack and unpack, enhancing packing efficiency. They come in a variety of sizes, so you can choose the ones that work best for your needs. And because they are designed to compress your clothes, you don't have to worry about them taking up too much space in your luggage.
Protecting Your Clothes
Packing cubes are also great for protecting your clothes, ensuring lightweight packing. They are made from durable materials that can withstand the wear and tear of travel, and they keep your clothes safe from dirt, dust, and other debris. This means that your clothes will stay clean and fresh, even when you're on the go.
In conclusion, packing cubes are the ideal travel accessories and gadgets for travel organization and luggage organization. They make it easy to transition from one season to the next by sorting and storing your clothes, making use of limited storage space, and protecting your clothes from damage. So if you're looking for a convenient way to shift seasons effortlessly and optimize your travel gear, consider investing in some packing cubes today! Don't forget to check out our travel packing tips, travel hacks, and minimalist packing ideas to maximize your packing efficiency and make the most of your travel essentials.
---